Traditional Bento Box
We supply Hand-made and natural wood takeout lunch box with our clients. Suitable for your children or yourself to have a nice picnic or a road trip. OEM make different product size.
1. The product is not allowed to be used in the microwave.
2. Classical, functional, and comfortable.
3. The liquid not leaked
4. Healthy, plastic-free, close to nature.
Biodegradable Take Out Food Containers with Clamshell styled
The traditional bento box with unique compartment, made from high-quality poplar material with inside laminate.
Characteristic and traditional design, it's also a good present for significant other as a holiday gift.
Very light and beautiful lunch box, also easy to clean, washed it gently by hand in mild soap and water, dried it by hand,
it is no worse for the wear. And most importantly, it makes your lunch more delicious than usual.
Our wooden food container workmanship is fine and there is no indication at all of the odor of lacquers, varnish or other wood finish.
A perfect size of takeout lunch box which the wood is smooth, the anchoring wood is excellently done. It's pretty and everyone likes it,
and it fulfills its function gracefully.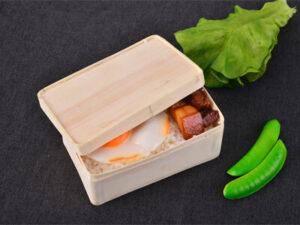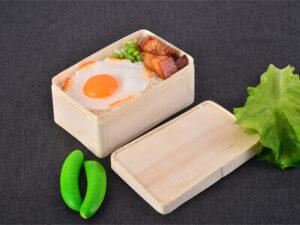 An excellent simple wooden bento lunch boxes for adults
. A good size to hold in one hand or between two hands
. The finish of the wood is smooth and pleasant.
. No no smell of any chemicals, only a clean smell of wood.
. It is very lightweight but seems sturdy and clean easily
. The lunch box will easily hold a one-cup serving of delicious food
. No any risk leaking due to the food container with good sealing.
Gaozhang Industrial Zone,
Xiachen, Jiaojiang, Taizhou,
Jiaojiang, Zhejiang, China.
Product Name
Wooden Traditional Bento Box
Material
Wooden(Poplar Material)
Size
Customize
MOQ
20,000 PCS
Mould Fee For Custom Product
US$900.00
Trae Terms
FOB, CIF, DAP, DDU
Transport
By Sea, Air, Railway Shipment