Take Out Food Containers
Eco-friendly disposable take out to-go food containers with lids, meal prep storage, microwaveable and able to be put into the dishwasher. No more worries about food liquids seeping, You can carry these clamshell disposable Eco containers anywhere without any mess!
They can be put in the refer for cooling or if you need to microwave them it is not a problem and nothing from the container being microwaved. They are also large enough to hold a decent amount of food.
1. Easy storage, and well made.
2. Heats food nicely closes securely and sturdy.
3. It's convenient that you can put a lot of food in it.
4. Don't worry about gravy seeping.
5. Great for environmentally conscious meal prep.
Biodegradable Take Out Food Containers with Clamshell styled
Our biodegradable clamshell containers made of PLA, cornstarch, it's renewable and sustainable material.
All food storage containers are compostable to help reduce your establishment's environmental footprint.
The reusable take out containers can be used to serve both hot and cold food items. They are very sturdy,
which is hard to come by with eco-friendly containers - you can put anything in them,
including foods with high moisture content and they won't get soggy. If you don't want to contribute to environmental
pollution by buying plastic meal prep containers, why not try to use our take out food containers?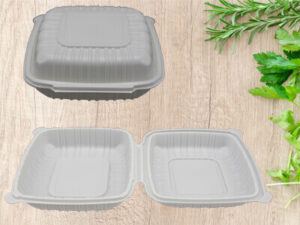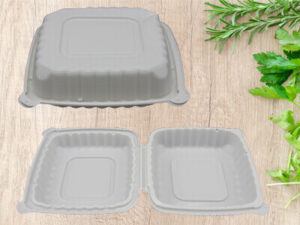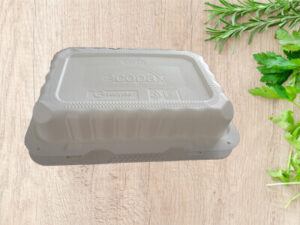 Disposable Take Out Containers Feature:
1. The single compartment and clamshell new styled design are easy to open and close when necessary,
without any liquids leaking out from the sides.
2. The box holds up and transports food very well, plus everyone adores how eco-friendly it is compared to
other takeout containers!
3. These containers are very durable, and large so as to fit bigger portions.
4. They can be used in the microwave which is another plus as well.
5. Use it at the restaurant and it really helps with keeping the quality of the food.
6. The customers won't be sacrificing quality for an earth-friendly solution. Contains No Plastic or Wax Lining.
Microwave & Freezer Safe
The design of eco-friendly takeout containers makes them freezer safe as well as safe to use in the microwave for reheating.
Designed to hold hot liquids without leaking.
We're a professional biodegradable food containers manufacturer and supplier in China. If you're interested in our products,
please don't hesitate to contact us.
Gaozhang Industrial Zone,
Xiachen, Jiaojiang, Taizhou,
Jiaojiang, Zhejiang, China.
Product Name
Biodegradable Clamshell Take Out Food Containers
Material
Food-grade PP, PLA, Cornstarch, Biobased Materials
Size
Customize
MOQ
50,000 PCS
Mould Fee For Custom Product
US$7150.00
Trae Terms
FOB, CIF, DAP, DDU
Transport
By Sea, Air, Railway Shipment