Self-Heating Lunch Box
The Self-heating food container used for fast food or Chinese hot pot, soup packaging. A perfect for consumers want on-the-go convenience.
Enjoy a delicious home-style meal in your hotel, office, traveling.
1. Food-grade PP material was heating resistant.
2. The self-heating container can be a different color.
3. The liquid not leaked, it's safety.
4. OEM different size, color depend on clients demand.
Advantages of self-heating food packaging
Imagine going on a vacation, business trip or any other activity that takes you away from the place where,
like Long hikes, long train rides. Not a pleasant vision or experience when you travel and all you can think of is a home,
it's not too hard to carry a little hot thermos! Our self-heating bento box is ideal for portable thermal solutions.
designed to provide safe, instant, portable, long-lasting thermal packs wherever you require them.
We provided the trusted and reliable source for travel meals for travelers of all types.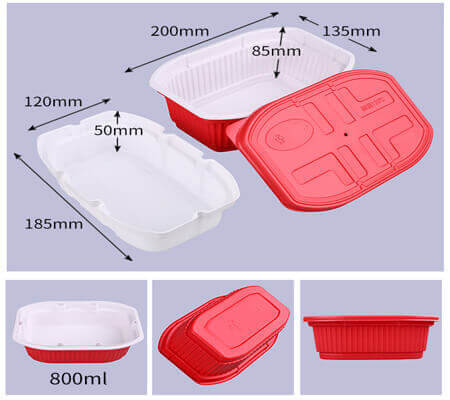 Why the lunch box can self-heating the food?
The answer is quicklime added to water produces heat, which the water temperature up 120℃。It's easy to heat up the food.
Gaozhang Industrial Zone,
Xiachen, Jiaojiang, Taizhou,
Jiaojiang, Zhejiang, China.
Product Name
Self-Heating Lunch Box
Material
Food-grade PP, PLA, Cornstarch, Biobased Materials
Size
Customize OR Standard Size
MOQ
40,000 PCS
Mould Fee For Custom Product
Negotation
Trae Terms
FOB, CIF, DAP, DDU
Transport
By Sea, Air, Railway Shipment